Contents
Moving average for day traders
Moving average for swing traders
Moving average for positional traders
Which moving average will you use?
Moving Averages are the most commonly used technical indicators and to know which moving average to use and when you need to know what do you want to use the moving average for. Do you want to Scalp, Day Trade, Swing Trade, or buy and hold?
Once you know this and the type of trader you are, it becomes easy to choose the right moving average.
Keep reading and I'll explain everything to you.
Moving Average for Scalpers
Scalping is all about getting in and out of the markets within a short period of time and scalpers are just looking to get a piece of a small price movement.
Most scalpers trade on the 1 min and the 5 min charts and to understand what the price is doing on such fast timeframes, they need to use moving averages that are fast too.
Now let's say that you scalp on the 1 min timeframe, which moving average to use?
I'd say that you use a 10 EMA and a 20 EMA.
The reason is simple, you need a moving average that will react fast to the price moves and that will help you trade quicker.
Only EMA, nothing else? You can use WMAs too. They're just like the EMAs.
Moving Average for Day Traders
Day trading is all about getting into trades and getting out of it before the day end.
Day traders look to capitalize on a longer price movement than scalpers and they look to get a piece of the entire day's price movement.
Normally, day traders trade on the 15 min or the 30 min timeframe.
Now, in day trading you don't need to use the fastest moving average but you need a moving average that can show you the day's trend.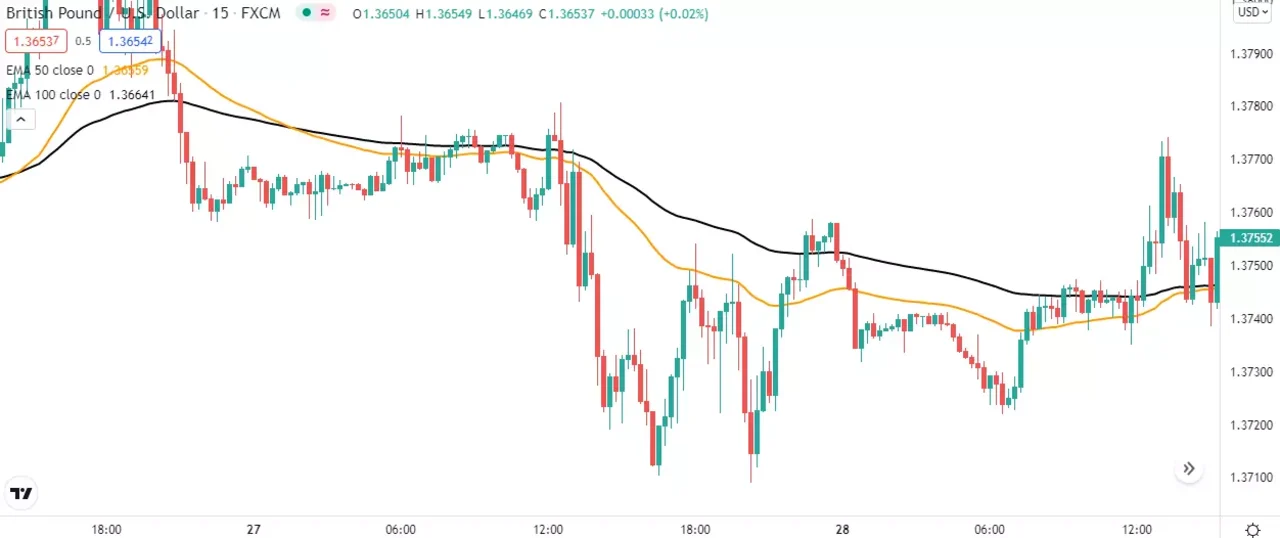 So, the moving average that you should use if you are a day trader is the 50 EMA and the 100 EMA.
We'll use the EMAs for the same reason, they react to prices faster. You can even use the WMAs here if you want.
If you see, we're using a moving average of a longer length. That's because we need to see what the price was doing over the day.
Moving Average for Swing Traders
Swing traders are longer-term traders compared to day traders. They don't mind holding the trades for more than a day.
In swing trading, it's not about catching those small price moves, but it's about capitalizing on decent price swings.
That's why swing traders trade on the 1 hr and the 4 hr timeframe.
If you swing trade, then you cannot use the moving averages that you'd use to scalp or day trade.
Here you need to use moving averages that show you the trend clearly and over a longer period of time. Only then will you be able to swing trade nicely.
So, as a swing trader, you should use the SMAs. The reason is that it shows the trend quite smoothly.
You can even use the SMMAs instead of the SMAs, it's up to you to make that choice.
Moving Averages for Positional Traders
Positional trading is the longest type of trading. Positional traders are also known as buy and hold traders.
Positional traders pay no heed to short-term price moves and even if there's a medium-term price move, they won't be bothered much.
They're just behind riding massive trends that are formed due to large price swings.
These traders trade on daily and weekly timeframes.
Now, if you are a positional trader then you just need to know the trend and that too should be clear to you.
That's why you'd want to use only those moving averages that show you the trend clearly and over a large period of time. You should use the SMAs or the SMMAs here.
100 SMA and 200 SMA are what I'd suggest you use as these will make it quite easier for you to understand long-term trends. You can use the SMMA instead of the SMA.
Which Moving Average will you use?
I'm hoping that after reading this blog post you're clear as to which moving average should be used and when.
Do let me know which moving average you end up using.
Don't forget to share this blog post with others and also let me know if you have any questions in the comments section below.